Why choose a dome marquee? 
Innovative and versatile, a dome marquee  will add a unique flair to your outdoor event and let your brand stand out at the next trade show or exhibition.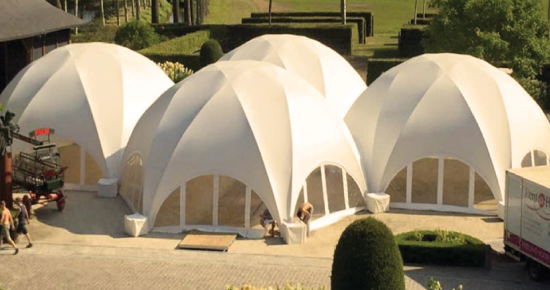 From special celebrations by night to product launches and brand activations by day, you won't go wrong when you hire a dome marquee  for a memorable outdoor event. Let's look at just some of the reasons why you should choose dome marquees. 
1.    Unique design

The dome marquee's distinct shape and unique design gives you a great way to set yourself apart from your competitors and wow your guests. Dome marquees are available in multiple sizes to suit your special event.
2.    Brandable

Did you know a dome marquee  can be branded? Yes! You can show off your business and products by branding your dome marquee in a wide variety of colours and printing options. High-quality digital printing on the dome's cover and sidewalls work especially well for brand activations, exhibitions and product launches.
3.    Versatile

A dome marquee tent is amazingly versatile and can be used for various types of events of all sizes. Although dome marquees are primarily designed for commercial applications, their innovative and practical design also make them the perfect outdoor space for social events, giving guests a warm, weather-proof area to enjoy your outdoor event. They have been cleverly designed to easily group and connect them to the size and shape you need, and can be configured to be 
fully open, partially open or fully closed.
4.    Easy to set up

A dome marquee tent is really easy to install and dismantle by a professional team. 
5.    Strong construction

Apart from being visually appealing, the dome marquee tent also has a very strong construction, made from top-quality steel, aluminium and skin. Depending on the specific model, the internal structure of a dome marquee  can be used to support video screens, speakers, lighting and more. This makes them perfect to use for exhibitions, corporate events and private outdoor events.
Hire a dome marquee  from GL events
GL events offers a vast range of marquees for hire in a variety of shapes, sizes, designs and prices – including a range of dome marquees. Our unique marquee portfolio enables you to set up a semi-permanent outdoor event structure with the finish and feel of a permanent structure. 
Our professional service and friendly staff ensure that your guests are well-protected from all elements throughout the seasons.
The free-span marquees have been especially designed to eliminate the need for structural floor mountings that would traditionally limit the available space. Our marquees are available in PVC or with glass or cassette frontage which gives the illusion of a permanent venue.
GL events' marquee range includes:
•    6m to 25m marquee tents
•    5m x 5 m Snowpeak marquees
•    Double Storey marquees
•    Hexagonal and armbruster tent structures with glass frontages.
•    Dome marquee in the following sizes: 36m², 68m², 100m² and 175m².
Contact us
GL events South Africa is a leading marquee hire company near you, operating across South Africa with branches in Cape Town, Johannesburg and Durban. Contact us for advice and a tailor-made quote at [email protected].