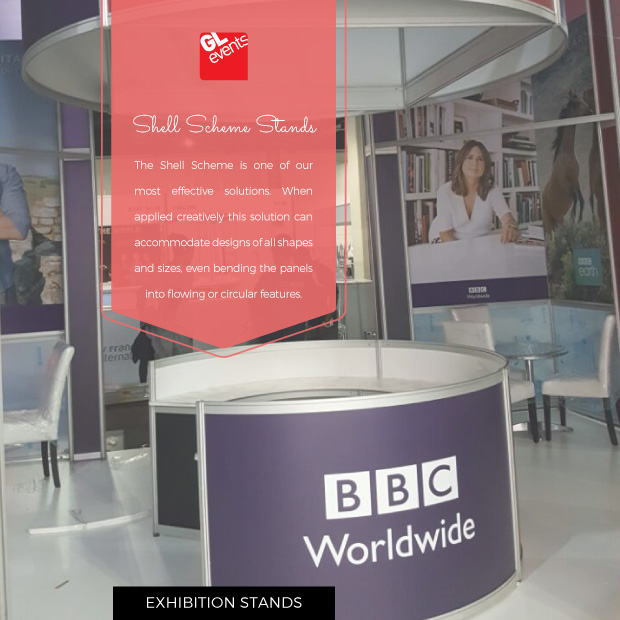 Shell Scheme
You know the saying: "Less is more"?
Shell Scheme may well be the starting point of basic exhibition systems and is often seen as 'entry level' but put this thought at the back of your mind for the time being, as it should not deter you in the least! 

Shell Scheme is one of our most effective solutions and is typically made up of square aluminium structures with inserted individual panels. Shell Scheme is most often purchased as a package option from the exhibition organiser, but can also be purchased directly from the stand builder for various applications.

When designed creatively this simple structure can be modified into different shapes and sizes, curved bulkheads and panels are a great way to refresh your shell scheme stand and move away from the ordinary set-up of a 3x3 stand.

Shell structures have an enormous amount of in factory preparation work and we have a large stock holding of pre-built shell furniture items, eliminating the need for building every component to order.  They are designed to accommodate the general essentials, eg. Lighting, lockable storage, display cases etc.
GL events provide basic infrastructure, including:
design
branding
power supply
flooring/carpeting
lighting
furniture
Our portfolio range includes Individual Exhibition stands, Exhibitor package deals, general Exhibition areas, Information areas, VIP facilities, Food and Beverage areas, Registration areas and back offices, just to mention a few.
Even on the lowest budget, when considering the Shell Scheme for your next Expo, there is every reason that your display will still rise superbly above the rest.
The Shell Scheme effectively offers simplicity and versatility, allowing your product, branding and message to have the edge on other exhibitors.