MARQUEES
Marquee  for any event
Marquees turn any event into an extraordinary experience! Immerse your guests in the great outdoors with all the luxury and convenience of an indoor venue that marquees provide.
We offer an extensive range of marquees for hire, whatever the occasion and no matter the weather. Whether you're hosting a sizzling summer celebration or a gala dinner in winter, we've got you covered (literally!) with a marquee perfectly suited to your event. Stylish upmarket furnishings and décor add to the glamour, leaving guests in awe of your memorable occasion.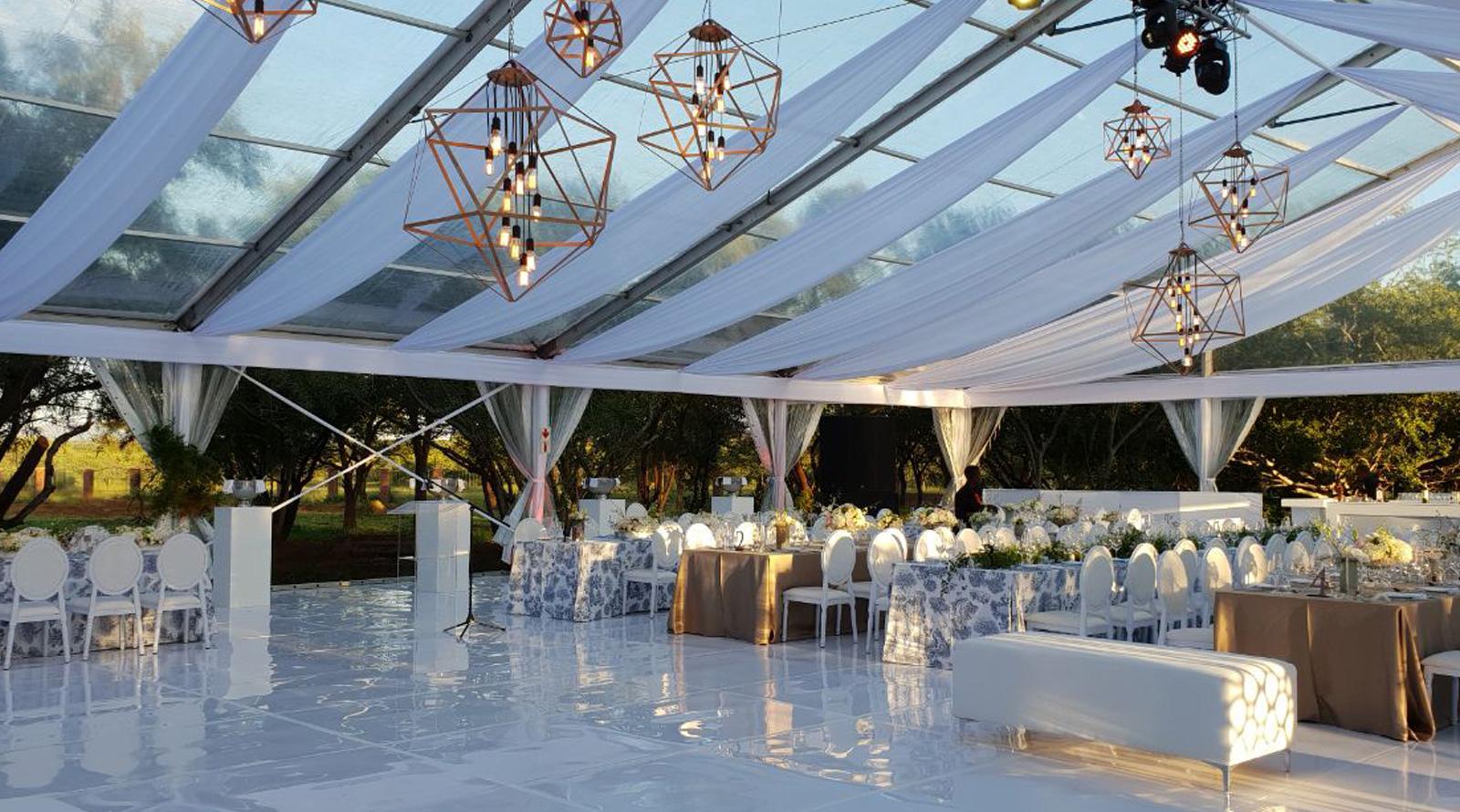 Marquee  in our collection
GL events' collection of marquees for hire is vast, offering an array of shapes, sizes, and designs. The free-span marquee  range has been especially designed to eliminate the need for structural floor mountings, which ultimately interfere with available space. The semi-permanent marquee structures are perfectly finished and create the sense of a permanent structure. In addition to PVC, units are also available with attractive glass or cassette frontages, giving these marquees the additional illusion of a permanent venue.
Hire a marquee for your event
Once you've decided to hire one of our marquees for your special event, our experienced and team of experts will guide you through every step of the way. From choosing an appropriate marquee  most suited to your function, to the delivery and execution of a state-of-the art outdoor venue.

MARQUEE HOSPITALITY - TYPES OF MARQUEES
Marquee Tent Hire for any Occasion
Whatever the event or time of the year, our marquee are designed to impress and deliver a perfect event! Beautifully tailored and taking all the elements into consideration, marquee configurations are individually developed according to individual specifications and requirements, and the finished designs are therefore as unique as your occasion.
SNOW PEAK MARQUEES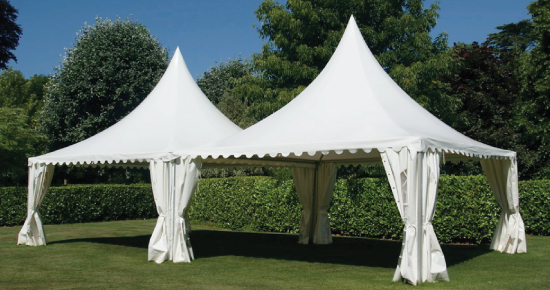 Snow Peak Marquees offer perfect flexibility as either stand-alone or linked solutions. They come either with open or closed-side walls and offer extra protection from wind and rain.
Sizes: 5m x 5m
CLEAR PVC SKIN MARQUEES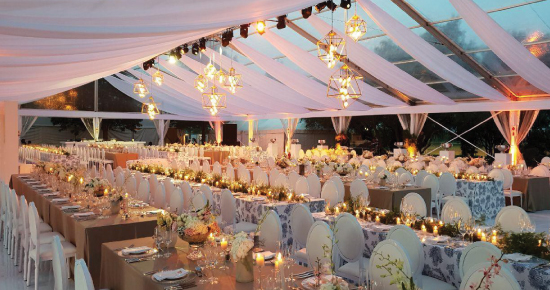 Clear PVC Roof Skins and Sides, these unique marquees provide an elegant finish. Perfect for natural light and simultaneous protection from the elements.
Sizes: 20m Gable (configurable from 20m x 5m to 20m x 100m)
THE DOUBLE DECKER MARQUEE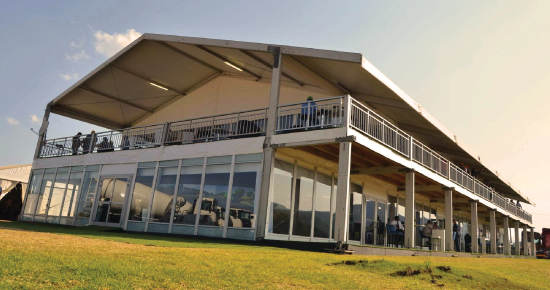 This unique structure facilitates superb dual functions and up-market hospitality. Internal and external staircase options are available, as well as balcony installation.
Sizes: 17.5m & 25m Gables (available in 17.5m x 40m & 25m x 40m)
BEDOUIN TENTS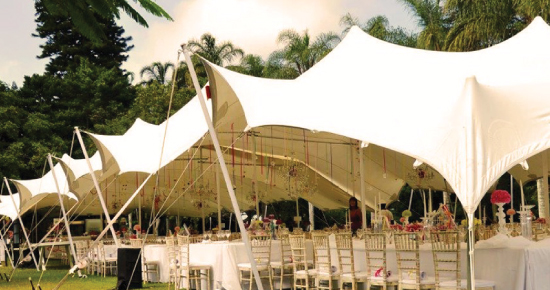 Bedouins invite creativity and are available in many colours, sizes and shapes. Positioning on uneven terrains is much easier, including slopes, rooves and tiered ground.
Sizes: Various sizes available or custom made to client specifications
ARMBRUSTER TENT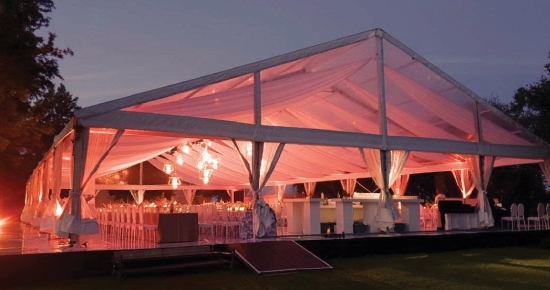 Produced from superior high-grade materials, vinyl and polyester finishes offer flowing peaks and spacious interiors.
Sizes: 15m x 21m with 2 x centre poles - 15m x 27m with 3 x centre poles - 15m x 15m with 1 x centre pole
HEXAGONAL MARQUEES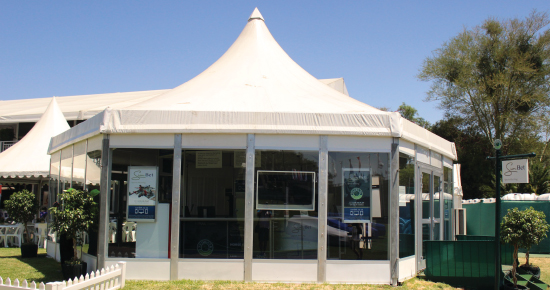 A perfect option for either a reception or workspace area. Attractive glass and cassette units are ideal for welcoming guests, or for creating additional working space.
Sizes: 10m x 10m
DOME TENTS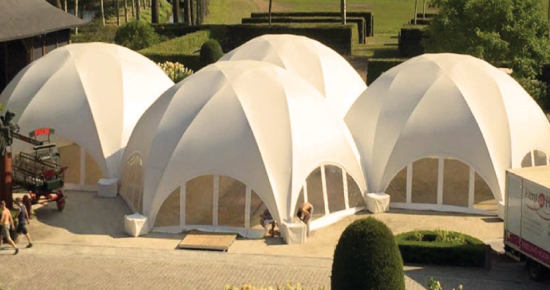 Modern and stunningly attractive dome tents are available in various sizes. So modern and cleverly designed, they are configurable and easily grouped and connected.
Sizes: 36m², 68m², 100m², 175m²
SERVICE UNITS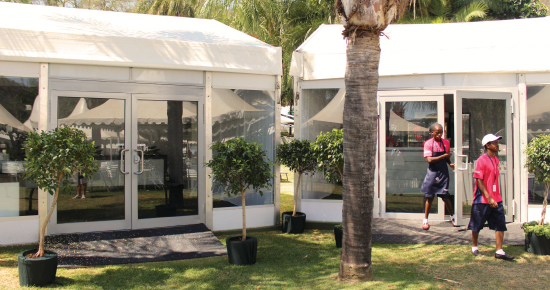 These convenient units are ideally used for kitchen and catering facilities, back offices during set-up for an event, a first aid base, a security office or for storage purposes.
Sizes: Various Sizes
RAISED PLATFORMS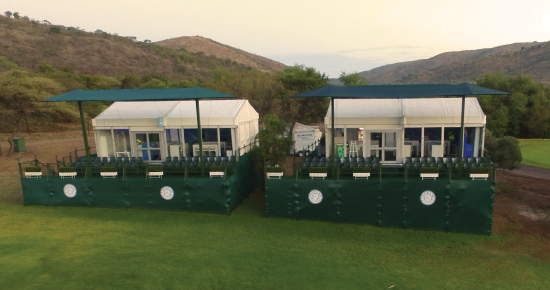 These eye-catching structures offer raised deck extensions and the capacity for extra seating. Importantly, they are configurable to client requirements and simply add that touch of extra dimension to the event.
Sizes: Various Sizes